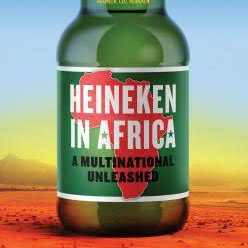 Heineken have proven that when the alcohol industry goes unchecked by regulation, there is no limit to bad behaviour in pursuit of profits. Dutch journalist Olivier van Beeman's book Heineken in Africa. A Multinational Unleashed, has been launched in English and is being promoted in Australia.   
In this Drink Tank podcast Van Beeman talks about his six years of research into Heineken's operations across 12 African countries, and what he uncovered from the more than 400 sources he dealt with in and around the company.
Van Beeman's book reveals many controversial facts and practices that made headlines in the Netherlands and around the world. It shows how Heineken collaborated with dictators, authoritarian governments and an alleged war criminal; explains how it achieves tax avoidance; and reveals the company is tied to human rights violations and high level corruption.
Van Beemen gives new insights and analyses about business in Africa and the role of multinational companies in jurisdictions that are lawless and poor. A major conclusion in the book is that Heineken has succeeded in imposing its own narrative about the positive benefits of alcohol and the company; however, they didn't count on van Beeman relentlessly unpacking Heineken's record and separating the truth from lies.